Blood Circulation (Heart)

VigorHeart™ (The Best Heart Formula)

30 capsules
$39.99/bottle
buy 3 get 1 for free
buy 5 get 2 for free

Vigorheart™ is a proprietary blend formulated to support cardiovascular and circulatory health. It also improves heart function by promoting cardiac cellular energy production.
Unique formula with rapid absorption and effectiveness
Supports cardiovascular and circulatory health by relaxing/widening blood vessels, especially around the heart
Contains powerful all-natural antioxidants, helps cellular energy production and improves heart function and blood circulation
Helps relieve chest tightness, discomfort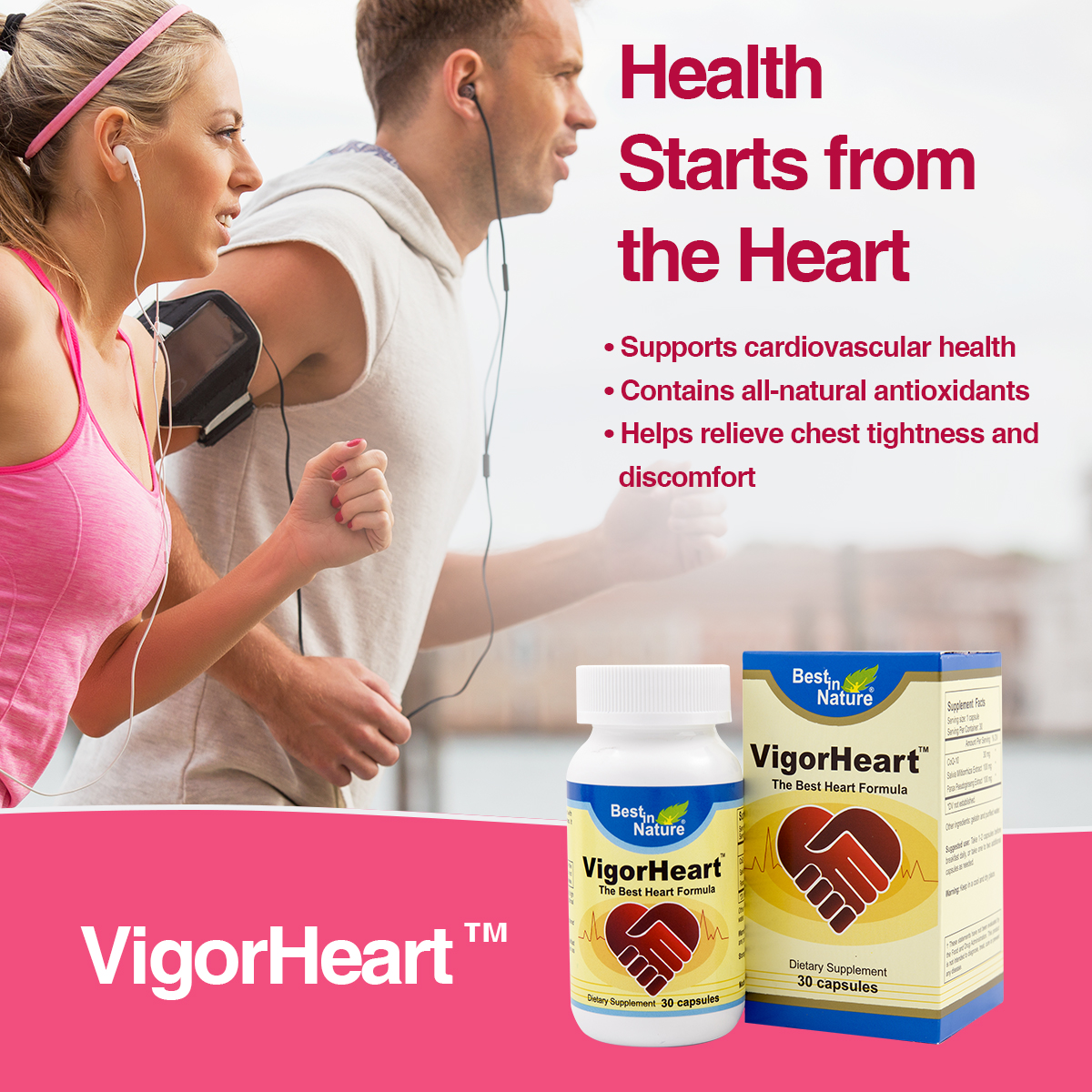 Vigorheart™ contains ingredients such as CoQ10, salvia miltiorrhiza extract, panax pseudoginseng extract, etc. Based on the latest scientific studies, these components have shown significant benefits in improve blood vessel health, thereby maintaining healthy blood pressure. This also results in reduced chest discomfort, especially when the heart is heavy-loaded. The unique formula of Vigorheart™ helps promote more energy production in the heart, protect the heart from overburden and reduce risk of cardiovascular dysfunctions. Vigorheart™ is an all-natural scientific based product, providing rapid onset, long lasting protection, with no side effects.
Vigorheart™ contains Coenzyme Q10 (CoQ10), also known as ubiquinone, is a naturally occurring antioxidant and is used for energy production within cells.
Salvia Miltiorrhiza (DanShen), in traditional Asian medicine, has been used to treat heart conditions. It helps to improve blood circulation. In addition, chemical compounds in Salvia miltiorrhiza may relax and widen blood vessels, especially those around the heart.
Panax Pseudoginseng (active ingredient notoginsenosides) has been described as being more valuable than gold. Notoginseng is one of the most powerful blood tonics known. It is used to make the body stronger and can aid healing. Notoginseng has many active ingredients, including Notoginsenoside R1, Ginsenoside Rb1, and Ginsenoside Rg1. Recent research shows it strengthening the cardiovascular system.
Vigorheart™ is developed by Best in Nature®. Our superior and innovative formulations are scientifically designed and researched. Best in Nature® products are manufactured at cGMP facilities and distributed globally.

VigorHeart™ #5406884 is a Trademark of Best in Nature®
Related Information:
According to a statement from the American Heart Association, cardiovascular issues are the leading causes for mortality in the United States. Smoking, poor diet, obesity and lack of exercise are all common risk factors. Symptoms of possible heart issuse include chest discomfort, chest tightness, shortness of breath, and other signs like cold sweat or lightheadedness. It could be angina if you get shortness of breath, chest discomfort or lightheadedness, when under stress, doing exercises or labor-intensive activities. If the symptoms last more than 10 minutes, you might be experiencing ctritaical heart problems.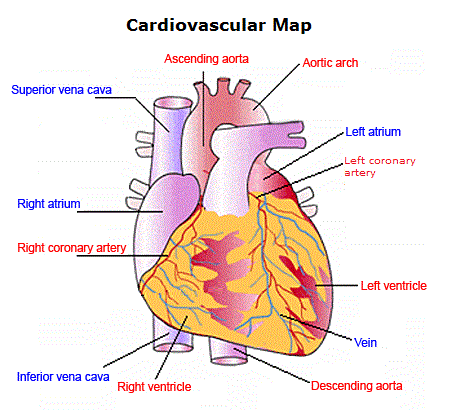 Supplement Facts
Serving Size: one capsule Servings Per Container: 30
Amount Per Serving
% Daily Value
CoQ-10
30mg
*
Salvia Miltiorrhiza Extarct
100mg
*
Panax Pseudoginseng Extract
100mg
*
* Daily Value not established.
Other ingredients: gelatin and purified water

Suggested Use:
Take two capsules twice daily as a dietary supplement. For optimal heart and brain health, try taking one Vigorheart capsule in the morning and one Vitabrain capsule at night.

Disclaimer:
*These statements have not been evaluated by the Food and Drug Administration. This product is not intended to diagnose, treat, cure or prevent disease.

Warning:
Please avoid this product if you are pregnant or breastfeeding.

Storage:
Keep in a cool and dry place.

Testimonial
Mr. Zhou from Northern California left a review message on WeChat, "My mother occasionally feels weak. Since taking Vigorheart, she feels more energetic. She is very pleased that her health is getting better and happy with her decision to continue taking Vigorheart in the future."


From Mr. Huang from Los Angeles. Two years ago he started to take Virgorheart twice a day. Now his heart functions are well-maintained and his circulatory system is healthy. Mr. Huang believes that Virgorheart contributed to these great improvements and he is determined to keep taking Virgorheart as part of his healthy heart diet.


From Mrs. Jia from Diamond Bar, CA speaking about her friend Mrs. Fan from Guizhou, China who is 68 years old. Mrs. Fan sometimes felt dizzy when she was doing housework. Mrs. Jia recommended VigorHeart to her. Mrs. Fan's discomfort and dizziness disappeared after taking VigorHeart. Recently, she asked Mrs. Jia to order two sets of VigorHeart for her.


From Mrs. Hou from Taiwan, who is 80 years old. For the last 7 years, she has been buying three top selling products (Bone Essense, VigorHeart and VitaBrain) consistently. She says the products always help with her health conditions. Every time she travels around the world, she recommends Best in Nature to her friends. Whenever Mrs. Hou needs to reorder products, the customer representatives at Best in Nature always assist her with great care. "Your products are amazingly helpful, and your staff is very neat and efficient, I will order your products all the time." Mrs. Hou said.


Mrs. Tianlanlan sent us a message saying she was trying to find a dietary supplement to support vascular health and circulation. So she wanted to try VirgorHeart. At the beginning, her husband had doubts about VigorHeart. Her daughter did research and found out all the products are confirmed and good. With the help of VigorHeart, now her husband and her feel better and continue to take a capsule before breakfast every day.


Ms. Shi from Dandong, China told the Best in Nature sales representative via phone; "I take VitaBrain and VigorHeart as daily supplements when I feel uncomfortable and tired. I double the dose of VitaBrain and VigorHeart for several days and it always helps. And also, my eyes feel better since taking Natural Astaxanthin!" With Best in Nature, Ms. Shi has improved her quality of life.


On July 14th, 2016, Mr. Shuizhong Chen from Hangzhou sent us an exciting message: "I started to take VitaBrain and VigorHeart after a recovery from playing badminton. I would never have imagined that I won first place by defeating a thirty years old player." I really appreciate Best in Nature for bringing such a great product to the consumers and I would like to recommend it to people around me who have similar problems!" Better health comes from better dietary and exercise.


Tom from California is a jazz player and drummer, and would get very nervous and stressed before getting on the stage. After taking several sets of VigorHeart, his health condition had changed a lot. He feels more relaxed when he is on the stage now. Tom was so happy that he recommended this product to his friends.


Mr. Zhang, of Dalian, China, first became a Best in Nature customer in 2008. He first tried VigorHeart and after taking it, he felt an improvement in his health. Six months later, he re-ordered 6 bottles of VigorHeart and other health products. It was a good match. At that time, Mr. Zhang had already ordered Best in Nature's health products for four years. The cost gradually changed from several hundred dollars to two thousand dollars. He purchased more and more varieties of products, not only VigorHeart, GlucoBest, BondEssence, but also LiverBest, Optimum Bee Propolis and etc. Since Mr. Zhang lives in China, he had to ask his friend to help him pay the fees. It brought him some trouble but his friend was pleased to help. He's always said, "I feel comfortable taking Best in Nature's health products. I trust their quality and service."


From Ms. Fang Li in NJ,USA, "VigorHeart is great! I have never tried anything like this that helps me and my health improve so much, so I ordered another 24 bottles of VigorHeart."


Mr. Wang from Omaha, USA says, "My mother is 70 years old and lives in Hangzhou, China. After taking 6 bottles of VIgorHeart in May 2007, my mother felt the functioning of her cardiovascular system had improved a lot. I re-ordered 20 bottles for my mother in February 2008 and have continued since."


---
Copyright Notice
Copyright© All rights reserved, Best in Nature/Diamond Nutriceutical Inc. All products description, work principles, customer testimonials, advertisements and brochures are original work of authorship of Best in Nature/Diamond Nutriceutical Inc. Any unauthorized copying or plagiarizing, in whole or in part, constitutes copyright infringement and will be enforced or sued by Best in Nature/Diamond Nutriceutical Inc. Any advertisement in the newspaper or magazine or any other media which is placed later than our original date of work of authorship will be regarded as copyright infringement; for works published over the internet, its publication date and infringement will also be closely tracked using www.archive.org.

VitaBrain

Best Women's Formula

BloodBest

Omega-3