Immune system

PunicaBest Pomegranate extract

Temporarily Out of Stock

60 Vcaps
$35.99/bottle
buy 3 get 1 for free, buy 5 get 2 free

Pomegranate has been shown to contain a number of powerful antioxidant compounds including polyphenolics and anthocyanidins. Pomegranate is especially high in Ellagic Acid, which has been shown to support healthy cellular function. PunicaBest contains Pomegranate Extract, standardized to 80% Polyphenols and 40% Ellagic Acid. In addition, PunicaBest contains Trans-Resveratrol, another potent antioxidant that protects cells against DNA damage and helps to sustain healthy cell cycles. PunicaBest's combination of antioxidant power and cellular protection thus provides strong support against abnormal cell growth, as well as against the effects of aging.*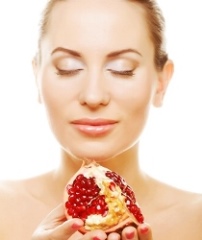 Supplement Facts
Serving Size: 3 Vcap® Servings Per Container: 60
Amount Per Serving
% Daily Value
Pomegranate (Punica granatum (Fruit) Standardized Extract
200 mg
*
Ellagic Acid (from Pomegranate Extract)
80 mg
*
Proprietary Blend of Japanese Knotweed (Root) Extract (Polygonum cuspidatum) & Grape (Skin) Extract (Vitis vinifera)
130 mg
*
Trans-Resveratrol (from Japanese Knotweed (root) Extract & Grape Skin Extract
20 mg
*
Polyunsaturated Fat
2 g
* Percent Daily Values are based on 2,000 calorie diet.
Daily Value not established..
* Daily Value not established.

Suggested Use:
As an herbal dietary supplement, take 1 Vcap® 1-3 times daily, preferably with meals.

Free of:
sugar, salt, starch, yeast, wheat, gluten, corn, soy, milk, egg or preservatives. Vegetarian Formula.

Other Ingredients:
Cellulose, Cellulose (capsule), Silica, Magnesium Stearate (vegetable source) and Stearic Acid (vegetable source).

Warnings:
Caution: Please discard the inedible freshness packet enclosed.

Disclaimers:
*This statement has not been evaluated by the FDA. This product is not intended to diagnose, treat, cure or prevent any disease.

Vcaps® is a registered trademark of Capsugel

Important Information
Pomegranate - "The Fruit Of Immortality"
By Nilesh Patel, phD,IL, US. November 2, 2004
Pomegranate (Punica granatum L.) [Family: Punicaceae] fruit was called "The Fruit of Immortality" by the ancient Egyptians. Pomegranate is cultivated widely throughout Southeast Asia. In ancient times, the Greeks and Egyptians used pomegranate to heal many ailments. Pomegranate is one of nature's oldest remedies to relieve infections, intestinal parasites, chronic mucous discharges and hemorrhages. It was considered the fruit of the gods and was regarded as a symbol of fertility due to its round shape and abundant seeds.
More recently, Pomegranate extract has demonstrated a variety of beneficial functions including antioxidant and anti-viral activity. In 1996, a University of Nottingham Research team learned that pomegranate extract could destroy several viruses nearly on contact. The active constituent that appears to be responsible for its multiple health benefits is Ellagic acid (EA). EA is a naturally occurring phenolic compound (tannins) in many plants, fruits and nuts such as strawberry, red raspberry, blueberry, blackberries, walnuts, and pomegranate. The antioxidants of Pomegranate may enhance cardiovascular health, support the prevention of tumor cells and detoxify intestinal parasites. In addition, EA may help in retaining the integrity of collagen (vital to maintaining skin-structure).
Moderate consumption of pomegranate juice may also help fight heart disease. In studies of healthy human subjects and mice with atherosclerosis showed significant clinical results. According to studies at the Technion-Israel Institute of Technology, the cholesterol oxidation process (a process linked to the formation of atherosclerotic lesions) was slowed by as much as 40% when healthy subjects drank 2-3 ounces of pomegranate juice a day for two weeks. Further, the juice reduced the retention of LDL, the "bad" cholesterol (The study was published in the American Journal of Clinical Nutrition).
"Pomegranates are proving to be the most powerful antioxidant available, better than red wine, tomatoes, vitamin E and a variety of other headline makers," says Prof. Michael Aviram, an internationally recognized authority on the effect of food on heart disease. Using sections of excised human arteries, Dr. Aviram has shown that the active ingredient in pomegranates not only slows down cholesterol oxidation, but actually minimizes the retention and aggregation of LDL cholesterol, two additional processes that create atherosclerotic lesions. When the subjects stopped drinking the pomegranate juice, the beneficial effects lasted for about a month.
EA is very stable and readily absorbed through the GI system in mammals, including humans. Additional phenolic compound, such as anthocyanidins¡Xwell-known scavengers of free radicals¡X found in pomegranate synergistically increases pomegranate's potency as an antioxidant as evidenced by the high ORAC value.
Best in Nature® has recently introduced PunicaBest™ Vcaps with Pomegranate extract (40% Ellagic acid & 80% total polyphenols), with trans-reseveratrol as the synergist in the formula.
Selected References:
Aviram M., Aviram R and Fuhrman B. Antiatherogenicity and antioxidative properties of polyphenolic flavonoids. In: Natural Antioxidants and Anticarcinogenesis in Nutrition, Health and Disease. Eds. Kumpulainen J.T. and Salonen J.T. Royal Society of Chemistry, Cambridge, U.K. pp. 106-113 (1999)
Aviram M. Does paraoxonase play a role in susceptibility to cardiovascular disease? Mol. Med. Today. 5 (9):381-386 (1999)
Aviram M., Dorenfeld L., Rosenblat M., Volkova N., Kaplan M., Hayek T., Presser D. and Fuhrman B. Pomegranate juice consumption reduces oxidative stress, low density lipoprotein modifications and platelet aggregation: studies in the atherosclerotic apolipoprotein E deficient mice and in humans. Am. J. Clin. Nutr. 71 : 1062-1076 (2000)
Kaplan M., Hayek T. , Raz A., Coleman R. and Aviram M. Pomegranate juice supplementation to apolipoprotein E deficient mice with extensive atherosclerosis reduces macrophages lipid peroxidation, cellular cholesterol accumulation and development of atherosclerosis. J. Nutr. 131: 2082-2089 (2001)
Aviram M. and Dorenfeld L. Pomegranate juice consumption inhibits serum angiotensin II converting enzyme (ACE) activity and reduces systolic blood pressure. Atherosclerosis. 158: 195-198 (2001)
Fuhrman B. and Aviram M. Polyphenols and flavaonoids protects LDL against atherogenic modifications.In: Handbook of Antioxidants Biochemical, Nutritional and Clinical Aspects, 2nd Edition. Cadenas E & Packer L (Eds.) Marcel Dekker, NY(Pub.). 16:303-336 (2001)
Aviram M. Polypyhenols from pomegranate juice, red wine and licorice root protect against lipids peroxidation and attenuate cardiovascular diseases. In: Polyphenols Communciations 2001. XXth International Conference on Polyphenols, Eds. Martens S., Treutter D and Forkmann G. Freising-Weihenstephan, Germany pp. 158-175 (2002)
Aviram M., Dorenfeld L., Kaplan M., Coleman R., Gaitini D., Nitecki S., Hofman A., Rosenblat M., Volkova N., Presser D., Attias J., Hayek T. and Fuhrman B. Pomegranate juice flavonoids inhibit LDL oxidation and cardiovascular diseases: studies in atherosclerotic mice and in humans. Drugs Under Experimental and Clinical Research (Bioscience Ediprint Inc.) 28:49-62 (2002)
Aviram M. Pomegranate juice as a major source for polyphenolic flavonoids and it is most potent antioxidant against LDL oxidation and atherosclerosis. In: Proceedings of the 11th Biennal Meeting of the Society for Free Radical Research International (Paris, France, July 16- 20,2002), by Monduzzi Editore S.p.A. ¡V MEDIMOND Inc. pp. 523- 528 (2002)
Aviram M. Pomegranate juice as a major source for polyphenolic flavonoids and it is most potent antioxidant against LDL oxidation and atherosclerosis. Free Radical Research 36 (Supplement 1): 71-72 (2002)
Aviram M., Fuhrman B., Rosenblat M., Volkova N., Kaplan M., Hayek T., Presser D., Attias J., Gaitini D., Nitecki S., Hoffman A. and Dorenfeld L. Pomegranate juice polyphenols decreases oxidative stress, low-density lipoprotein atherogenic modifications and atherosclerosis. Free Radical Research 36 (Supplement 1): 72-73 (2002)

PunicBest Fact Sheet
Neil E. Levin, CCN, DANLA
9/28/04
USER: Those needing antioxidant protection; People with a family history of cell growth abnormalities; Anyone concerned with aging
KEY INGREDIENT(S): Pomegranate fruit standardized extract 200 mg. (Punica granatum) containing 80% total polyphenols, including 40% Ellagic acid, Resveratrol (100% trans-resveratrol) 20 mg. from a blend of Japanese knotweed root extract (Polygonum cuspidatum) and grape skin extract (Vitis vinifera)
POTENTIAL BENEFITS: Ellagic acid is a polyphenol compound found in raspberries, strawberries, pomegranates, and other fruit. It has been shown to normalize cell death of abnormal cells, a process called apoptosis. This enhances the body¡¦s cell growth control system by providing an important plant substance. It may bind to DNA to prevent damage to this all-important genetic material. This is a key step in preventing cell damage that leads to signs of aging.
The American Cancer Society says that research in animal and laboratory models has found that ellagic acid inhibits the abnormal growth of certain cells. Research at Ohio State University indicates that berries typically contain a few milligrams per ounce of ellagic acid, the actual level varying quite a bit from variables such as species, variety and growing conditions.
Resveratrol is an antioxidant compound that is a phytoestrogen, or plant estrogen, which is protective of hormone-mediated cells in the body. Resveratrol is a potent antioxidant if stabilized. If not stable, it may quickly metabolize out of the body. This compound is believed responsible for some of the beneficial effects of moderate red wine drinking on the cardiovascular system. Resveratrol is also considered to be beneficial to smokers¡¦ lung tissue if it is stabilized to last long enough in the system to be transported there. Resveratrol is also an inhibitor of the COX-2 inflammatory enzyme and encourages cell death (apoptosis) of abnormally growing cells. In insect experiments resveratrol even repaired DNA, leading to a longer life for healthy cells even as it helped get rid of unhealthy cells. Again, this ability to protect cells and help the body rid itself of abnormal cells is a key factor in preventing signs of aging. One liter of red wine contains between 1.5 and 3 mg. of resveratrol.
OTHER IMPORTANT ISSUES: Resveratrol is a difficult substance to stabilize. Because of the difference between resveratrol produced in the oxygen-poor environment in red wine and the form of resveratrol in unstabilized supplements, it has long been thought that resveratrol supplements were not very effective in comparison with wine. Knowing the importance of how a resveratrol supplement is metabolized, Now¡¦s scientific staff has recently developed a special technique of stabilizing this compound in order to have an antioxidant effect closer to drinking a good glass of wine. While both trans and cis forms of resveratrol are naturally occurring, most of the recorded health benefits are attributed to the trans form. PunicaBest provides trans-resveratrol.
DOSE: One capsule per day. Resveratrol has been used safely in studies at doses equivalent to 500 mg./day.
COMPLEMENTARY PRODUCTS: Other antioxidants and plant compounds: Vitamin C, pycnogenol, grape seed extract, and alpha lipoic acid.
CAUTIONS: Pregnant and lactating women and people using prescription drugs should consult their physician before taking any dietary supplement. There are some indications that resveratrol is a mild anticoagulant ("blood thinner"), and it also may help keep blood vessels to remain open and flexible. Caution should be used by those on blood-thinning drugs.
Disclaimer: These statements have not been evaluated by the FDA. This product is not intended to diagnose, treat, cure or prevent any disease.
---
Copyright Notice
Copyright© 2013 All rights reserved, Best in Nature/Diamond Nutriceutical Inc. All products description, work principles, customer testimonials, advertisements and brochures are original work of authorship of Best in Nature/Diamond Nutriceutical Inc. Any unauthorized copying or plagiarizing, in whole or in part, constitutes copyright infringement and will be enforced or sued by Best in Nature/Diamond Nutriceutical Inc. Any advertisement in the newspaper or magazine or any other media which is placed later than our original date of work of authorship will be regarded as copyright infringement; for works published over the internet, its publication date and infringement will also be closely tracked using www.archive.org.

Tomato Lycopene

Shark Cartilage

Saw Palmetto Plus