Organic Skin Care Products

Cleansing Milk

200ml/Bottle
$45.00/bottle


JANSSEN ORGANICS maintains the skin's native protection even in the case of thorough cleansing. CLEANSING MILK contains rich oils from controlled ecological cultivation which bond to the undesired residues on the surface of the skin and can be washed off with water.

Poured onto a cotton wool pad and pressed gently onto the eyelids, this product removes even eye make-up. The fresh, pressed aloe vera juice simultaneously acts to soothe and moisturize. The long-lasting feeling of freshness gives you the certainty of clean and clear skin which is silky-smooth. Preparation for the next cleansing step with CALMING FRESHENER is thereby completed gently.

Benefits / product characteristics:
• Pleasantly fresh fragrance
• Fine, creamy texture in combination with water
• Leaves the skin feeling fresh and soft
• Simple and uncomplicated application
• Water-soluble

Active substances:
• Aloe vera juice CEC: Skin-clarifying, soothing, moisturizing
• Olive oil CEC: Rich, creamy basis for mild skin cleansing
• Coconut oil CEC: "Virgin oil" from initial cold pressing, untreated, with a particularly high content of fatty acids; rich, creamy basis for mild skin cleansing; smoothes the skin and leaves it feeling soft and gentle

Application:
Distribute CLEANSING MILK over the facial skin and remove with plenty of water or moist compresses. Then cleanse again using CALMING FRESHENER.
Tip: To remove eye make-up, pour CLEANSING MILK onto a moist cotton pad and stroke gently over the eyes towards the tips of the eyelashes.

Note: Dermatologically tested.

Testimonials:
1) Megan (Yorba Linda, CA) realized she was allergic to Shiseido and similar cosmetic products, so her cosmetologist recommended that she try Janssen's Organic products. She was surprised that she did not get allergic to the products, and her skin felt smoother than before. As a result, she recommends Janssen Organics to all her mother and friends.

2) Karen (Chino Hills, CA) had sensitive skin so for a while she completely stopped using all cosmetic products. However, due to aging and exposure to the powerful Southern California sun, she could notice her skin getting drier and less youthful. She heard from her friend that Janssen Organics is made specifically for sensitive skin and 100% natural. She hesitantly tried Janssen Organics for a while, and to her surprise, her skin felt very good, no longer getting rashes nor itches. In addition, she was able to maintain moisture and smoothness.

New fashion of modern skin care: about JANSSEN ORGANICS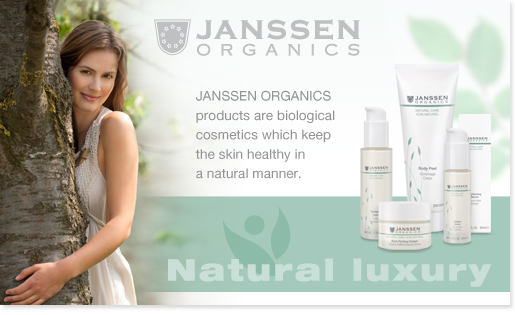 1. In harmony with oneself and nature
The holistic requirement of many people for a health-conscious and sustainable lifestyle as compensation for the fast-paced, high-tech world has become an important topic for professional beauticians. The desire for gentle and well-tolerated natural cosmetics is being expressed with increasing frequency.

JANSSEN ORGANICS is meeting this desire with a high-quality, natural and effective line of cosmetics. In this, the healing powers of nature are supplemented by top standards of ecological and social responsibility. The very best plant extracts from around the world have been selected and tested to guarantee the effectiveness of the JANSSEN ORGANICS products. Argan oil from Morocco, coconut oil from the Philippines, macadamia nut oil from Hawaii and aloe vera from Mexico are just a few examples of the plant oils and extracts to be found in the new biological cosmetics line. Many originate from the yields harvested by selected cultivation cooperatives. The areas of cultivation are additionally preserved and protected. This in turn benefits the indigenous producers, because so-called "sustainable?business in the sense of "fair trade?supports the local way of life and culture.

2. Sustainable and healthy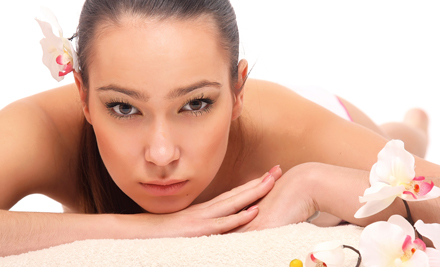 JANSSEN ORGANICS combines an awareness of sustainable and healthy skin care with the pleasure of natural cosmetics. The gentle formulations contain natural ingredients, 95% of which originate from controlled ecological cultivation (CEC).All ingredients which are biologically difficult to break down and place unnecessary strain on ecosystems are consciously omitted. These include paraffin oil, silicone oil and artificial colorants and fragrances.

The scent characteristic of the ORGANICS products is an individual mixture of individual fragrances (e.g. essential oils), 100% of which are naturally obtained. Of course, it goes without saying that none of the ORGANICS products have been tested on animals or have undergone genetic engineering in any way.

3. Made in Germany with distinction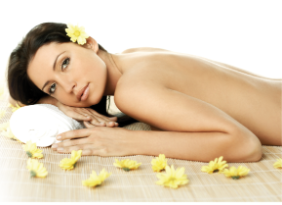 Completely "Made in Germany? the Janssen Organics products have been formulated in the Dr. Sacher Kosmetik development laboratory and produced in a certified production and filling plant. The internationally recognized NaTrue quality seal for serves as proof of this high standard of quality. This identification guarantees successful auditing of the product documentation and the production process by an independent auditing institute commissioned by NaTrue.

NaTrue label ?a seal sets the standard The essential features of the JANSSEN ORGANICS biological cosmetics are simultaneously the highest requirements made on the products certified by NaTrue. This is based on a precisely defined minimum content of natural substances, derived natural substances and nature identical substances.Natural substances: These naturally occur in this form and are chemically unchanged (e.g. macadamia nut oil). Derived natural substances: These are obtained exclusively from natural substances within a few steps by means of chemical conversion (e.g. hydrolyzed lupine protein).Nature identical substances: These are permitted for preservatives and minerals if the substances cannot be obtained naturally in the required quantity or quality (e.g. volcanic rock).

Kind to the skin and effective. hen cared for regularly, the skin reveals smooth and firm contours plus a balanced lipid and moisture content after just a short time. Dermatest? an independent institute for contract-based medical and cosmetic research, has studied the effectiveness of selected ORGANICS products under medical supervision. The result proves the subjectively perceived care characteristics of the Organics products and their objectively measurable skin smoothing. DERMATEST?result obtained by optical 3D measurement of the skin surface (PRIMOS) on 20 female volunteers following a 4-week field trial. The improvement in the depth of creases after applying the CLEANSING MILK, INTENSE MOISTURIZER and RICH FIRMING CREAM preparations over a period of four weeks was an average of 34.19%*.

Naturally long-lasting.JANSSEN ORGANICS products have equally as long a shelf life as all other Janssen Cosmetics products. All products have successfully undergone a 3-month storage test at 4°C, 20°C and 40°C. There were no indications of any physical-chemical, chemical or microbial changes. The result of these tests clearly shows that the biological products are equally as long-lasting and stable as their non-biological counterparts. Storage stability (with the container unopened) of over 30 months at room temperature is therefore guaranteed. Preservation in accordance with the requirements of the European pharmacopoeia and EU certification, ORGANICS products are preserved with the emulsifier Dermosoft GMCY (INCI: GLYCERYL CAPRYLATE), which is also certified for use in foodstuffs, to prevent bacterial growth. This emulsifier is obtained from coconut oil using chemical processes which are permissible for biological products. The second substance used to combat bacteria is the fragrance levulinic acid, which is obtained from maize using permissible chemical processes. JANSSEN ORGANICS products are therefore preserved equally as well as non-biological products.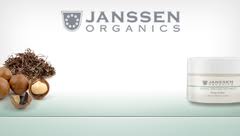 Naturally well-packaged. JANSSEN ORGANICS foregoes extensive packaging. Stemming from production which has neutral impact on the climate, the cardboard boxes are marked with the FSC seal of approval and are used to securely transport the glass jars containing our biological cosmetics. Environmentally-friendly dyes lend a hint of color to the design and are the logical progression.

JANSSEN ORGANICS product offers a specific look: manufactured in a natural manner, it is intended for daily skin care and the preservation of nature and the environment. JANSSEN ORGANICS has a natural and healthy effect for all those who value responsibility, sustainability and conscious interaction with the environment.

---
Copyright Notice
Copyright© 2013 All rights reserved, Best in Nature/Diamond Nutriceutical Inc. All products description, work principles, customer testimonials, advertisements and brochures are original work of authorship of Best in Nature/Diamond Nutriceutical Inc. Any unauthorized copying or plagiarizing, in whole or in part, constitutes copyright infringement and will be enforced or sued by Best in Nature/Diamond Nutriceutical Inc. Any advertisement in the newspaper or magazine or any other media which is placed later than our original date of work of authorship will be regarded as copyright infringement; for works published over the internet, its publication date and infringement will also be closely tracked using www.archive.org.