About Best in Nature®


Diamond Nutriceutical, Inc., dba Best in Nature ®, is a California registered health and dietary supplement company with Food and Drug branch, Health Department license number # 46015. We sell quality products nationwide and internationally.

Self-improvement, self-care, and natural remedy are today's health focuses. Best in Nature® is committed to your health and quality of life. With unrelenting attention to product quality, scientific research and customer needs, Best in Nature® supplies an extensive product line globally. Our superior formulations are carefully and scientifically designed according to cGMP standard and FDA regulations to meet customersÂ' nutritional and therapeutic demands, and the result of extensive research in biochemistry and the latest achievements in nutrition science, providing the most up-to-date and innovative formulas.


Best in Nature Office in Pomona, CA

cGMP Certified Manufacturing Facility
For more than ten years, we have been serving the natural health industry in different fields and marketing premium nutritional supplements designed to promote healthy living. We are led by a team of experts who help to continually improve our products and business. Our Vice President of Sales and Marketing, Tom Panella (MBA), having previously worked at National Vitamin Company, Soft Gel Technologies, Kashi Foods, Green Foods, and Arrowhead Mills, is seasoned in the natural products industry. Our CEO Joy Pan (MA & Pharmaceutical Engineering) has been managing various natural products businesses for decades with honed acumen and experience.
Diamond Nutriceutical Inc. (Best in Nature ®) is a member of Natural Products Association (NPA), American Botanical Council (ABC), OsteoArthritis Research Society International (OARSI), National Osteoporosis Foundation (NOF), American Heart Association (AHA), and American Stroke Association (ASA).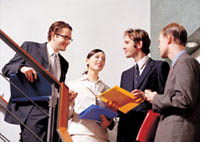 Our company has many U.S. patents and trademarked products: Bone Essense with Kolla2®, VigorHeart, VitaBrain, 7-Keto®, Eye Care Essense are U.S. Federal Patent products. BestWomenÂ's Formula, LiverBest, GlucoBest, Bright Up, Best Placenta Combo, Tomato Lycopene, Best Rei-Shi Plus and others are very effective health support products. Kolla 2, Bone Essense, VigorHeart, VitaBrain, LiverBest, GlucoBest, AppleFit and 7 Keto are U.S. registered trademarks.
Our website hosts a forum of humanistic care, nutrition knowledge and healthy living. Our sales and marketing networks cover the United States, Canada, Europe, Australia and Asia. We distribute products to more than 500 natural products franchise stores, drugstores, and supermarkets in the United States and Canada.
Our company's shopping cart is secure and reliable. We accept American Express, Discover, Visa, Master Card, and UnionPay. In accordance with U.S. laws, we strictly protect customer privacy and personal information. Shopping by phone is also convenient. Our customer care specialists are available to help you in English, Mandarin and Cantonese for your dedicated service.
| | | |
| --- | --- | --- |
| Lobby | | Meeting Room |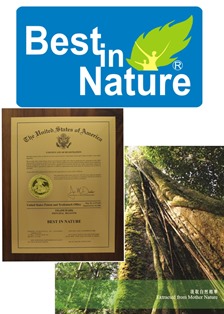 Brand Marketing
Our brand "Best in Nature ®" is a US registered trademark. This trademark means "to extract from the essence of nature." The blue plate and the white letters in the logo highlight the purity we are pursuing in the quality products; the green leaves and the people in the central characters of yellow symbolizes that our nutritional supplements are from mother nature and the noble realm of our work is to benefit mankind.
Company Affiliation and Recognition
We are a health food and dietary supplement manufacturing and marketing company approved by the California Department of Food and Drug Administration. Our factory has compliance with cGMP standards. We are Sponsor Members of the National Botanical Commission (ABC), the Osteoarthritis Research Society International (OARSI), the National Osteoporosis Foundation (NOF), the American Heart Association (AHA), and the American Stroke Association Institute (ASA).
The company is also a member of Women in Business, Chamber of Commerce, USA. Our CEO was awarded "2003 Outstanding Business Leader Award". U.S. Congressman Judy Chu issued an "Award for outstanding contributions to the community and health care industry". Diamond Nutriceutical, Inc. is also a former member of the International Affairs Committee of the National Nutritional Foods Association.
| | | |
| --- | --- | --- |
| License, #46015 | cGMP Certificate | NPA Certificate |
| Brand Registration | U.S. Patant Registration | FDA Export Certificate |

Platinum Sponsor for ABC

Sponsor for Natural Health Research Institute


Member of OARSI
| | | |
| --- | --- | --- |
| ANA Certificate | Member of NOF | Member of AHA and ASA |
Our Team
Diamond Nutriceutical Inc. has a great team of industry experts in FDA regulations, food and nutrition science, preventive medicines, health care and international marketing: ◆Senior Medical Advisor Dr. Zhang. H. Zhang, Ph.D. in Biochemistry and Molecular Biology, scientist of the American Heart Association and the National Medical Center, UC Irvine.
◆CEO Ms. Joy Pan, M.A. and Pharmaceutical engineer, served in the industry for more than 19 years, specializing in FDA regulations, health products research, production, international marketing and general business operations.
◆Chinese Marketing Director Jimmy Wang, M. A. a senior health food marketing expert and Chinese copywriter, specializing in Chinese media planning and marketing. In addition, he is also a published author of many books.
◆Medical & technical coordinator Emma Zhou, M.S. , a preventive medicine and public health specialist, with a biostatistics MasterÂ's degree from University o f Texas Health Science Center at Houston, her research focuses on herbal medicine in preventative health care application.

Products & Quality Control
Best in Nature ® developed and marketed a line of U.S. patented or trademarked herbal and dietary supplements, covering bone and joint health, cardiovascular and cerebrovascular support health, eye care, womenÂ's health, men's health, blood sugar health, nourishing, anti-anxiety, anti-aging, anti-oxidants, gastrointestinal health, kids vitamins, and more.
Best in Nature ®Â's key products include: Bone Essense, VigorHeart, VitaBrain, BestWomen's Formula, LiverBest, GlucoBest, Eye Care Essence, Tomato Lycopene, Best Rei-Shi Plus, Best Placenta Combo, CoQ10, Melatonin, Super Soy Lecithin and Omega-3 Salmon Oil King and more.
Diamond Nutriceutical Inc. is in compliance with US cGMP (Current Good Manufacturing Practice) standards to maintain production equipment in excellent conditions, manage production process, procurement of raw materials from the United States and worldwide, control product quality, track expiration dates, disclose product ingredients and execute product recall procedures required by FDA.
Our company has the most efficient, safe and accurate delivery and distribution system. All products are manufactured and packed in the United States, and shipped to international destinations daily, including Canada, mainland China, Taiwan, Hong Kong and around the world. We are responsible for misdirected or defective products. We accept unopened products returned within thirty days of purchase.

cGMP Standard production rooms


State-of-the-art raw material preparation tank


Automatic tableting machine


High precision Counting Machine


cGMP Standard bottling line


Quality Assurance (QA) department


Laboratories


Efficient distribution system
Company History & Development:
Our executives worked as management and administration for a number of U.S. health food business in the past twenty years. In early 1999, J & P Nutriceutical, Inc. was founded. With years of industry experience, long-term research and exploration, in 2006, Diamond Nutriceutical, Inc. dba. Best in Nature ® was founded with further expansion of consulting, formula development, import and export business, dedicated to the international marketing, customer care satisfaction and health food industry.
With rapid development of the company's business, currently there are more than 500 independent natural products stores, pharmacies and supermarkets selling our Best in Nature products in the United States and Canada. In addition to the traditional wholesale networks, we established a bilingual website in English and Chinese www.1688best.com in 2006 and www.bestinnature.com followed in 2009, targeting overseas Chinese markets globally. Step by step, we have built up a widespread customer base covering the United States, Canada, Europe, Australia, Asia and China, serving people speaking Chinese, English, German, French, Spanish and so on.
Best in Nature® is dedicated to help improve the communities and our countries. These are just some of the charitable activities that we have supported during the past years:

American Cancer Society Relay for Life events, www.relayforlife.org;

An honorary member of the American Heart Association, www.heart.org;

Supported Balls for Balls event at UCLA www.pgnbruins.com/ballsforballs;

Participated and donated to charity: water, www.charitywater.org;

Participated in UCLA Dance Marathon, raising funds for Pediatric AIDS, www.bruindancemarathon.org;

Participated in American Red Cross activities for Sichuan and Gansu earthquake relief, Haiti earthquake relief, Taiwan earthquake relief, snowstorms in southern China, Yunnan drought and other disaster relief activities. www.redcross.org;
Best in Nature® is committed to maintaining our environment for the future generations. We believe that "Recycle, Reduce and Reuse" is not merely a slogan, but a way of living. We have implemented simple and effective ways to be sustainable and will continue to do our part in making the planet a better place.
Diamond Nutriceutical, Inc. also provides the following services:
Consulting service for importing Traditional Chinese medicine (TCM), herbal extracts, and dietary/nutritional raw materials to the U.S. market; exporting US made natural products to Mainland China and Canada.
Translating & rewriting product labels, packaging boxes, brochures, advertisements and marketing related documents in compliance with US FDA regulations and requirements.
Assisting customers applying for product and facility registrations, free sale or export certificates with Health Department, California, US. Applying for U.S. patents, copyrights, bar codes, and creative design trademark registration for foreign companies.
Since 1999, we have put many efforts in research, formula development, marketing strategies, and FDA regulations. In 1999, we hosted a seminar to introduce the newly issued FDA regulations to the Chinese community with the then California Department of Food and Drug branch scientist Dr. Alfredo Quattrone to promote FDA labeling regulations.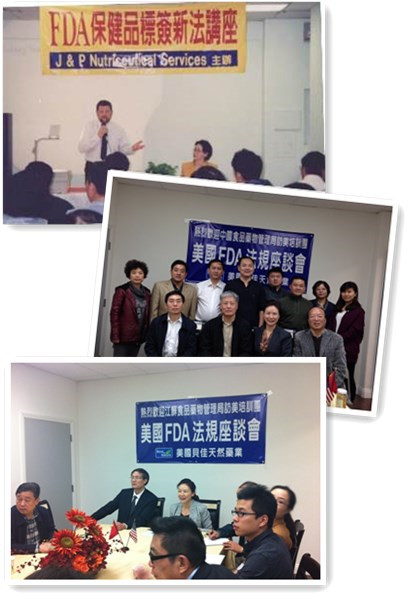 In 2007, Joy Pan and Dr. Alfredo Quattrone was invited to Shenzhen, China, as the "High-Tech & Health Forum" Speaker to introduce U.S. FDA regulations to Chinese industry players. On November 13 and December 8, 2013, we cooperated with the Development Training Center of California State University Long Beach to offer U.S. FDA regulations seminars to Jiangsu and China Food and Drug Administration delegations visiting the United States.
| | | |
| --- | --- | --- |
| Export Certificate from FDA | Free Sale Certificate from FDA | FDA Registration |
---
Copyright Notice
Copyright© 2013 All rights reserved, Best in Nature/Diamond Nutriceutical Inc. All products description, work principles, customer testimonials, advertisements and brochures are original work of authorship of Best in Nature/Diamond Nutriceutical Inc. Any unauthorized copying or plagiarizing, in whole or in part, constitutes copyright infringement and will be enforced or sued by Best in Nature/Diamond Nutriceutical Inc. Any advertisement in the newspaper or magazine or any other media which is placed later than our original date of work of authorship will be regarded as copyright infringement; for works published over the internet, its publication date and infringement will also be closely tracked using www.archive.org.