Gluco Balance

GlucoBest™

60 Caps
$38.99/bottle
buy 3 get 1 for free, buy 5 get 2 for free

Regulate blood sugar level

Keep Body functions operating normally

Support healthy function of the pancreas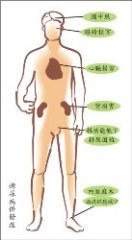 Supplement Facts
Serving Size: 2 Capsules Servings Per Container: 30
Amount Per Serving
% Daily Value
Bitter Melon Extract
200mg
*
Chromium Picolinate
200mg
100%
Gymnema Extarct
200mg
*
Pine Bark Extract
100mg
*
Blueberry Leaf extract
60mg
*
Fenugreek Seed extarct
50mg
*
Zinc Citrate
20mg
100%
Vanadium
50mg
*
Herbal Blends
250mg
*
*Daily Value not established.

Other Ingredients:
Gelatin (capsule) and purified water.

Suggested Use:
As a dietary supplement, take 2 capsules twice daily before breakfast and dinner, or as directed by your healthcare practitioner.

Disclaimers:

This statement has not been evaluated by the FDA. This product is not intended to diagnose, treat, cure or prevent any disease.

Testimonial
[GlucoBest]really decreases blood sugar with exercise and diet.

Mr.Zeng from San Diego has mild diabetes with blood sugar AIC level at 6.3. Recently, since lack of exercise and he didn't pay much attention to the diet, the annual physical exam indicates his AIC has increased to 7.0. His doctor immediately gave Mr. Zeng Metformin(500mg) and ask him to take twice per day. Mr. Zeng's friend recommended [GlucoBest]to him and he started to take it twice per day, two capsules every time. In the meantime, Mr. Zeng reduced Metformin(500mg) to one capsule per day and pay attention to his diet. He replaced rice with mashed potato for dinner and walks half an hour after dinner. His blood sugar now decreased to normal range of 95-108. Mr. Zeng is very satisfied with the effect of[GlucoBest]and other nutrition that it provides. He would like to recommend it to other people.


Doctor Xudong Yu from Wenzhou Medical University said:" My mother wants to express her gratefulness to Best in Nature. She has suffered from type II diabetes for 45 years. After taking 2 bottles of [GlucoBest], the neuritis,fundus macular and early renal function failure are much better. [GlucoBest]reduced the frequency of flash pain and relieve the renal pain. Her eyes are clear and eyelid dropsy are not as severe as before. She believes that continue taking [GlucoBest]will benefit a lot more!"


24 June 2016, Mr. Lee, a tourist from China, took the box of[GlucoBest]with him during his trip all the time, He went to several drug stores to ask the product, saying that the [GlucoBest] was so efficient for his blood sugar. Mr. Lee first went to Wisconsin Ginseng store in Los Angeles, [GlucoBest]was all sold out in this store. Then Mr. Lee went to another store, AIU Nutrition. Mr. Lee expressed his gratefulness to Best in Nature and was very happy that he has finally found the best product to control his blood sugar.


"My blood pressure really has been controlled, and I do not need to see my doctor!" says Mr. Zhang from Taiwan. Mr. Zhang is 80 years old and has been suffering from the fluctuation of the blood sugar level for many years. His daughter Miss Zhang is worry about him and has been trying to find an effective product to help her father control the blood sugar. Miss Zhang has searched through health care products in Taiwan and the U.S., until 6 months ago, Mr. Zhang came to Best in Nature in Los Angeles and tried 3 bottles of [GlucoBest], taking 2 pills after meal, and the blood sugar has turned back to normal level. "This is amazing!", says Miss Zhang, "As long as we have[GlucoBest], my father does not have to worry about in taking too much sugar anymore!"


I had been suffering from high blood sugar, for about three or four years. When I came to Iowa to visit my daughter, she bought me GlucoBest. Six months later, I no longer taking any medications and my blood glucose rose from 150 to 130. After I took three bottles of GlucoBest, my blood sugar level dropped from 153 to 110, this is magical. I will continue purchase this product. Thanks to Best in Nature's great product. (Mr. Lin, 64 years old, Guangdong¡AChina)


In mid-February, 2007, I ordered online a set of GlucoBest. It helps with blood glucose control, and works better than similar Chinese domestic products. So I ordered two more sets of 15 bottles of GlucoBest to Shanghai Metro Tower No. 30 Tian Yao Qiao X floor. (Nina Cao, Shanghai Rui Biao International Trade Co., Ltd., 138161023xx)


---
Copyright Notice
Copyright© 2013 All rights reserved, Best in Nature/Diamond Nutriceutical Inc. All products description, work principles, customer testimonials, advertisements and brochures are original work of authorship of Best in Nature/Diamond Nutriceutical Inc. Any unauthorized copying or plagiarizing, in whole or in part, constitutes copyright infringement and will be enforced or sued by Best in Nature/Diamond Nutriceutical Inc. Any advertisement in the newspaper or magazine or any other media which is placed later than our original date of work of authorship will be regarded as copyright infringement; for works published over the internet, its publication date and infringement will also be closely tracked using www.archive.org.

Now Foods Stevia

Eye Care Essense

Colostrum

Green Protein Spirulina