Women's Health

BestWomen's Formula

90 Caps
$37.99/bottle
buy 3 get 1 for free, buy 5 get 2 for free, buy 10 get 5 for free

BestWomen's Formula has phytoestrogens that relieve hot flashes, night sweats, related occasional sleeplessness, irritability, and mood swings associated with menopause.
A high quality herbal formula supplement;
Supports optimal hormonal balance and wellness;
Safe, and free of hormones and estrogen;
Delivers relief for hot flashes, night sweats, related occasional sleeplessness, irritability, and mood swings associated with menopause*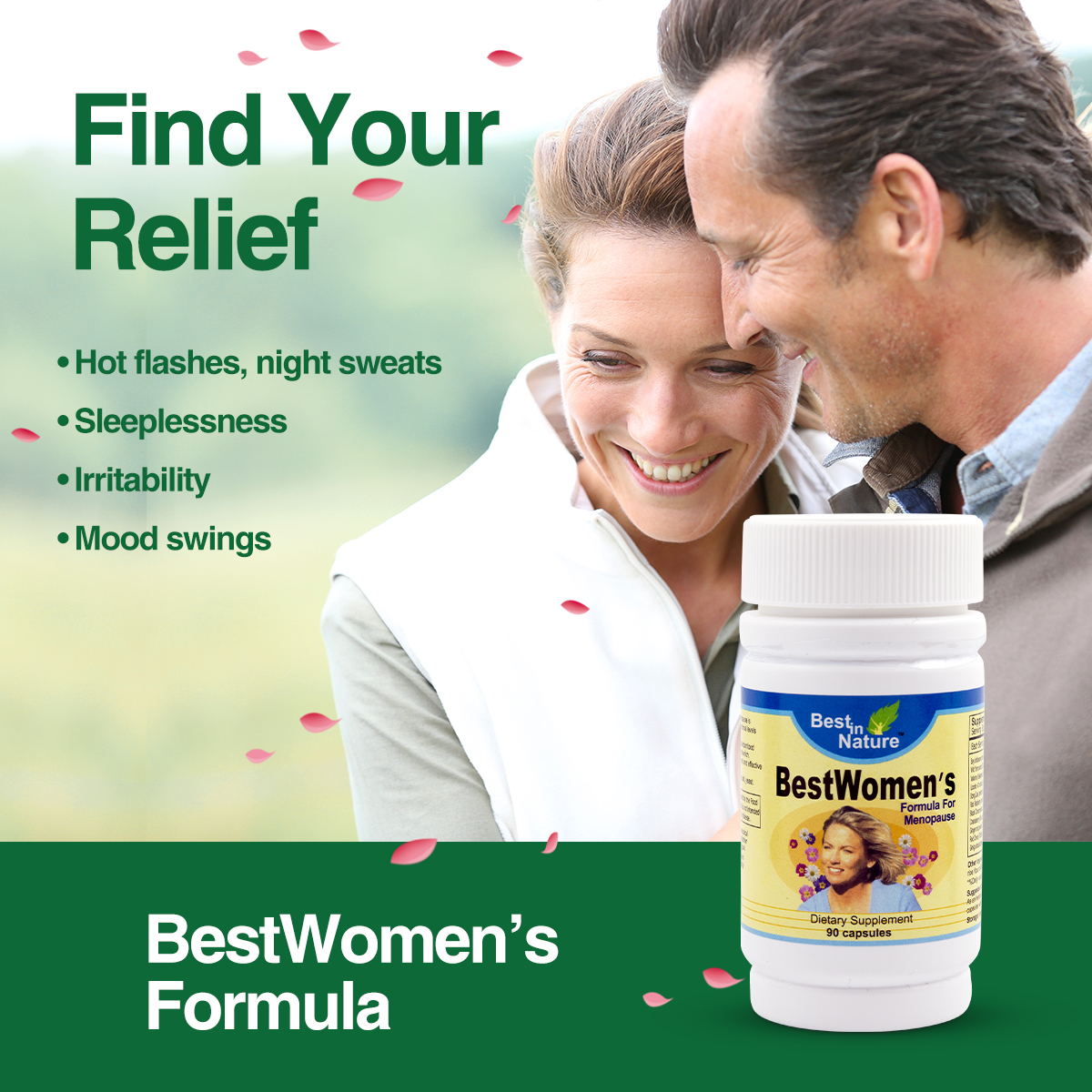 BestWomen's Formula is a dietary supplement specially formulated to provide women with pre- and post-menopausal hormone balance and wellness. This formulated blend is composed of synergistic combinations of full-spectrum herbs, herb-derived phytoestrogens, whole-food complex vitamins and minerals to combat the challenges of menopause, and to support women through the hormonal challenges that come with life's changes. BestWomen's Formula provides relief for hot flashes, night sweats, related occasional sleeplessness, irritability, and mood swings associated with menopause.
BestWomen's Formula is an all-natural and safe product, free of hormones and estrogen, containing herb-derived phytoestrogen. The physiological impact of estrogen deprivation, preceding and following menopause, has a significant effect on the quality of life for numerous women. A variety of disorders may occur including, but not limited to, vasomotor instability with resulting hot flashes, disturbances in mood, depression and irritability. However, simply ingesting estrogen significantly increases the risk of breast and uterine cancers. In BestWomen's Formula, broad-spectrum herbs with phytoestrogen, including black cohosh, Kava Kava, Dong Quai and soy, have remarkable effect on hot flashes in postmenopausal women with breast cancer. Growing evidence indicates phytoestrogens may reduce the risk of certain cancers, especially breast cancer. Also, broad-spectrum herbs with potent antioxidants, including ginger and licorice, help promote healthy aging.
BestWomen's Formula is developed by Best in Nature®. Our superior and innovative formulations are scientifically designed and researched. Best in Nature® products are manufactured at cGMP certified facilities and distributed globally.
Related Information: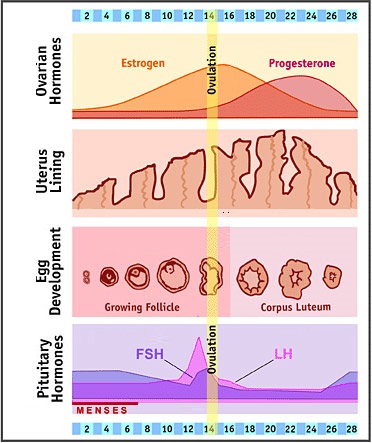 Supplement Facts
Serving Size: 3 capsules Servings Per Container: 30
Amount Per Serving
% Daily Value
Soy Isoflavones (non-GMO) (min.20% isoflavones)
100 mg
Valarian (Valeriana officinalis, P.E.)
100 mg
Wild Yam extract (Dioscorea villosa) (root) (6% diosgenin)
100 mg
Licorice 4:1 extract (Glycyrrhiza glabra) (root)
100 mg
Dong Quai powder (Angelica sinensis) (root)
100 mg
Red Raspberry powder (Rubus idaeus L.) (leaves)
100 mg
Black Cohosh extract (Cimicifuga racemosa) (root) (2.5% triterpene glycosid
80 mg
Chasteberry (Vitex agnus-castus) 10:1 extract (fruit)
50 mg
Ginger root powder (Zingiber officinale) (rhizome)
50 mg
Red Clover (Tritofolium pratense) (flower) (8% isoflavones)
50 mg
Ginkgo standardized extract (Ginkgo Biloba) (leaf) (24% ginkgoflavonglycosi)
30 mg
* Percent Daily Values are based on 2,000 calorie diet.
* Daily Value not established.

Suggested Use:
As an herbal dietary supplement, take 3 capsules with or between meals.

Free of:
wheat, corn, milk, sugar, salt, yeast.

Other Ingredients:
Calcium stearate, magnesium stearate, rice flour, silicon dioxide, gelatin, and water.

Warnings:
None

Disclaimers:
* These statements have not been evaluated by the Food and Drug Administration. This product is not intended to diagnose, treat, cure, or prevent any disease.

Testimonial
Normal hormone levels at 50.

Mrs. Zheng, 50 years old, lived in Upland, California. Several days ago, she went to see the family doctor to do her annual physical examination. The physician asked if her menstrual cycle was normal. She said it was as usual, once every 25-27 days. The blood test report showed her hormone levels to be normal as well. She was so happy for Mrs. Zheng because it is rare at her age. After walking out the clinic, Mrs. Zheng was so happy and called Best in Nature right away. She thinks it is all thanks to BestWomen's Formula. In the last two years, she has been taking BestWomen's Formula constantly. She feels her health condition is better than other women at her age.



Sweating.

BestWomen's Formula helps me stop sweating. My other menopausal symptoms were also significantly improved (Ms. LING, 917-669-66XX).



Palpitations and cardiac anomalies.

After I took BestWomen's Formula my palpitations and cardiac anomalies disappeared. My family doctor told me that menopause causes temporary decline in estrogen, which leads to great risk of heart disease. Now I take these organic female hormones, so I feel better (Ms. Linda, Los Angeles, California, 626-905-92XX)



Hot flashes and night sweats.

I am 50 years old this year. My period became irregular about 3 years ago. I took "Best Women's Formula" for only one week and surprisingly, my hot flashes and night sweats are gone. As I continue to take "Best Women's", my period is becoming more regular. I did stop taking "Best Women" for a while, but all the symptoms came back. I re-ordered and introduced this product to my friends. I do not want to have irregular periods again. (Ms. Jiang, Rowland Hts, California, 626-627-15XX)



Moodiness and bad skin.

My skin is usually dry and dark (not shiny). As a result of menopause, I have become very moody. I took "Best Women's" for only one month, and immediately, my skin became so soft, smooth and shiny. In addition, my anxiety reaction is gone. I could not believe it! Who knew that only one month could bring such great results (Ms. Wan, Montreal, Canada, 514-878-xx28).



More energy and no more night sweats.

I am 49 years old; my period has not come for four months already. If I am too tired, my night sweats will never stop. I took "Best Women's Formula" for 10 days and all my symptoms improved. Not only has the night sweats stopped, but I have also become more energetic. Amazingly, my period came back, too. I was so happy that I told my girl friend. She ordered "Best Women's Formula" right away, and Best in Nature shipped out the same day (Ms. Han. Temple City, California).
---
Copyright Notice
Copyright© 2013 All rights reserved, Best in Nature/Diamond Nutriceutical Inc. All products description, work principles, customer testimonials, advertisements and brochures are original work of authorship of Best in Nature/Diamond Nutriceutical Inc. Any unauthorized copying or plagiarizing, in whole or in part, constitutes copyright infringement and will be enforced or sued by Best in Nature/Diamond Nutriceutical Inc. Any advertisement in the newspaper or magazine or any other media which is placed later than our original date of work of authorship will be regarded as copyright infringement; for works published over the internet, its publication date and infringement will also be closely tracked using www.archive.org.

Bone Essense

VigorHeart

SleepBest

Marvelous U